Megha श्रेय ET Ascent and Navbharat Times organized a Change Makers program on 20th July'22 at the Novotel in Juhu, Mumbai, which hosted a large number of business icons from various sectors across the country. The event celebrated the achievements of corporate leaders from the IT, healthcare, digital marketing, and real-estate sectors and their commitment to transforming society. With immense pleasure, we would like to announce that Egnoto has been recognized for its remarkable contribution to the Digital Marketing sector, making 100% on-time delivery possible for worldwide customers and setting an example by creating the foundation of the change via business in the nation and society.
The event honored business owners who have distinguished themselves in their respective industries by combatting all the challenges and setting an example by laying the groundwork for change through their enterprises.
Egnoto was honored by well-known Bollywood musician Mr. Kumar Sanu and Ms. Seema Singh, who works for the non-governmental organization Megha श्रेय. The event's highlight was when Kumar Sanu sang the song Jab koi baat bigad jaaye in his melodious voice after telling everyone about the challenges he had to combat in the initial days of his career in the music industry.
After bagging recognition in the digital market sector, Egnoto also served as one of the panelists at the panel discussion that took place at the event. The issues that the panel discussions were held on were "Lessons for India on Adaptability from Global Trends" and "How to enable private and Government partners to work together to bring forth positive change."
The goal of the entire discussion was to talk about persistent problems that will aid individuals in progressing despite the obstacles ahead. Being able to express our opinion with others involved in the industry as panelists was a privilege for us. Every organization has its own distinct set of issues and dynamics, so sharing our experiences and hearing about other people's achievements and challenges was a novel learning experience for us.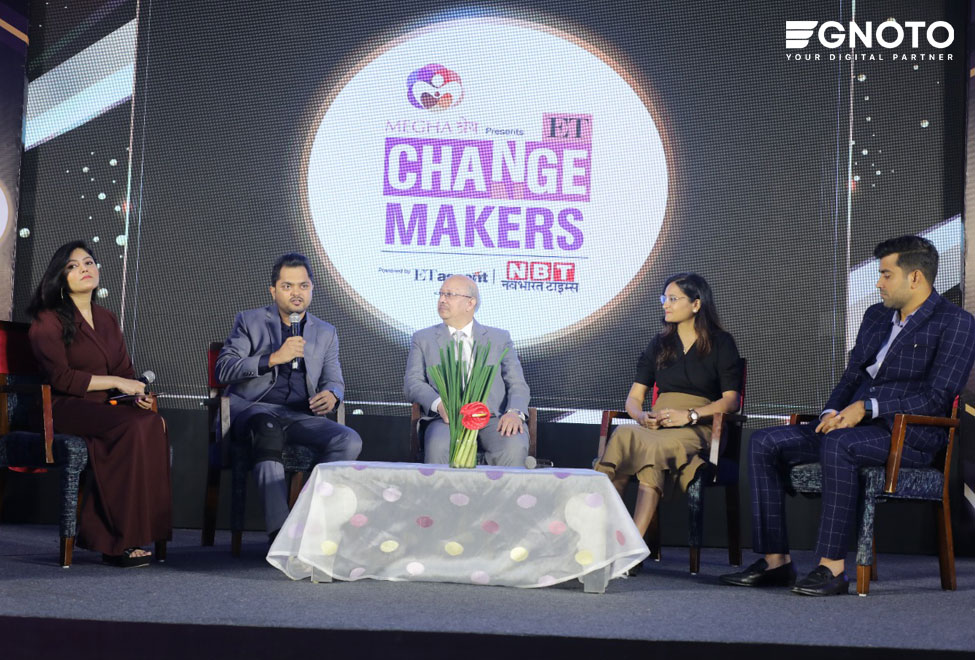 We are eternally grateful to ET Ascent and Navbharat Times for honoring us as change makers and recognizing our contribution to society. We will continue to strive to bring a change in the community via our operations.
Even in the future, Egnoto aspires to benefit society through its endeavors. We aim to be a reliable source for our clients, not just in India but also beyond. In order for our clients to benefit from digital marketing, we put our heart and soul into each and every project. For us, it doesn't matter how big or small a project is—the most rewarding aspect is when we deliver results to our clients.
Since Egnoto was founded from scratch with the intention of providing customers with 100% outcomes over the last four years till the present, it is an honorable time for all team members to see their hard work paying off.